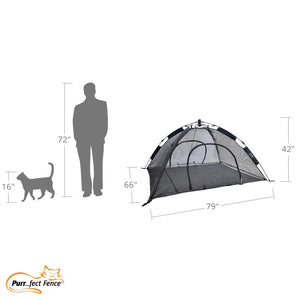 Purrfect PlayTent Portable Small Pet Outdoor Containment System
Description

Setup

What's In the Box:
The Purrfect Playtent is a wonderfully portable and economical pet enclosure. Designed for use for small dogs that would love some outdoor space but need to be contained. Areas such as parks, sporting events, campgrounds, picnics, parties, etc are excellent examples of how this totall collapsable enclsoure can be used.
Easy to setup and just as easy to put away, our design allows ample space with dimensions that are 79" Wide x 66" Deep x 42". It will easily fit multiple small dogs, and even their humans if they are up for climbing through the 17-inch main opening!
Be sure to read over our assembly instructions or watch our video below to see just how easy it is to use!
The mesh material is constructed from double stranded industrial grade fiber. It is flexible, soft, and is designed to stand up to claws and a bit of gnawing. The tents structure is gained from is fiberglass frame.
Included is a removable weather cover that quickly snaps into place when needed to shade the Purrfect Playtent or to keep water or wind from the enclosure.
All this packs into a compact heavy duty carry bag to make it easy to move from place to place. Stakes are also included to securely hold the tent down to the ground during extreme weather though it is designed to be used on all surfaces in normal weather conditions.
Get yours today!
(1) Purrfect PlayTent Outdoor Cat Tent
(1) Heavy Duty Carry Bag
4) Tent Stakes
(1) Removable Weather Cover (snap on)
(1) Tie Strap
Disclaimer: Please note that this product is exactly as described. The PlayTent makes a portable outdoor enclosed area. To be collapsible and portable, it must use a netting and framework that easily compacts. We have not had instances of a dogs/puppies chewing but it is certainly not impossible. It is also subject to outdoor conditions like wind. It is not a rigid permanent structure covered in metal mesh.