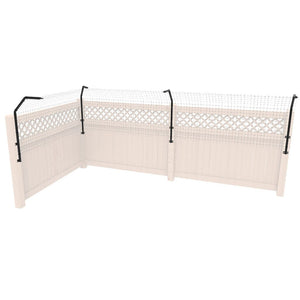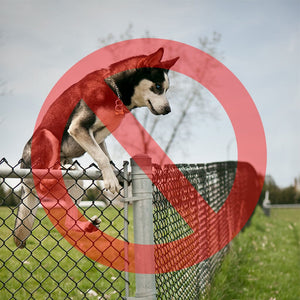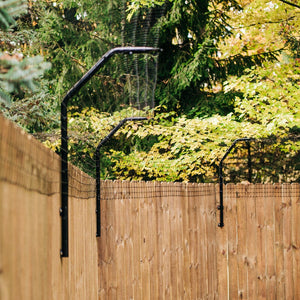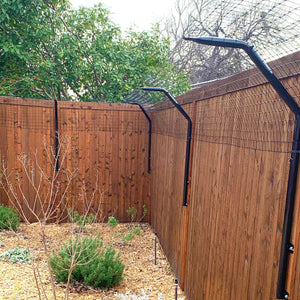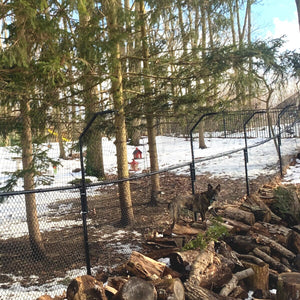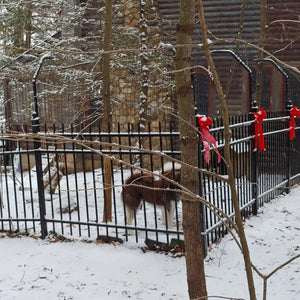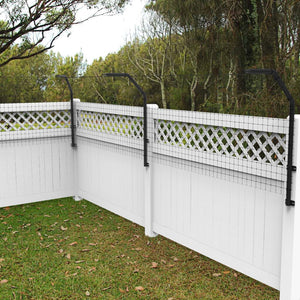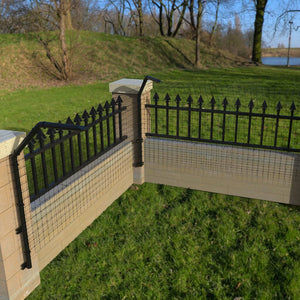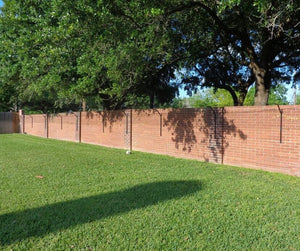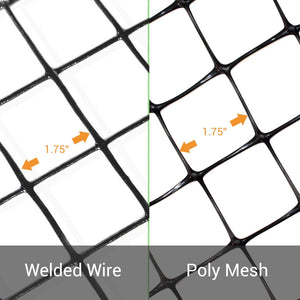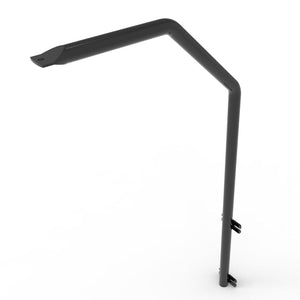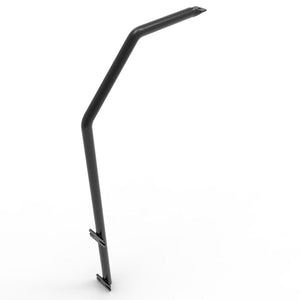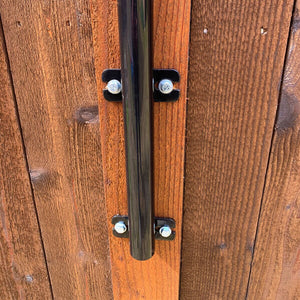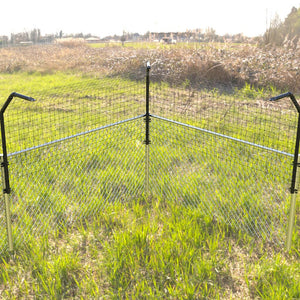 Houdini-Proof Fence Extender for Dogs
Safely contain a climbing or jumping dog with our curved fence extender kit. Designed with durable, powder coated steel, our proprietary curved dog arm technology is the top of the line in pet containment!
+ Expand Product Description
Description

Kit Contents

Installation

Helpful Information
Frequently Purchased Together
Defeat for our jumper
Our American Bulldog can clear a 6' fence if she hears a cat. With the dog proofer in place, she ran at the fence the first time, stopped, looked up and had a disgusted look on her face.
Thanks
Amazing!
I have 3 larger dogs who get very excited when anything passes our yard. I purchased the Houdini-proof dog proofer and couldn't be happier. Now my dogs can play in the yard without worry of jumping the fence to greet the garbage man or people passing. Great product! I would highly recommend it!
Best solution for jumping dogs!
The Houdini Fence literally saved my dog from escaping the yard through fence jumping. I upgraded the fence knowing he would try to bite the fence and that was a smart buy as well. He spent a lot of time trying to jump, bite, and body slam his way through and the fence did it's job spectacularly.
I took videos, it was amazing to see!
I now leave him to come in and out as he wants. I no longer worry about him jumping over the fence, and while he still attempts it once in awhile I know he's safe!
great solution to a difficult problem
We have a yard with wood fence and also with chain link. We have a boxer that we rescued that would leap over the fence like it wasnt there. We tried shock collars, invisible fencing, a couple of weird DIY things and nothing was working. Decided to invest in the system from dog proofer and after taking a few hours to set it up our little guy was done escaping. Been over a month and now he doesnt even try. Just enjoys his outdoor space like we hoped.
Dog Proofer does the job.
So far the Dog Proofer has kept the escape artist inside the fence. Can't ask for more!
Awesome stuff
We are actually promoting this style of fence. Great product!
So far so good
I had nicknamed my dog "Houdini" because she was easily jumping our fence and wondering the neighborhood. We could not afford a new fence so I found the Houdini fence extension online and decided to order one. Installing the fence was easy. My dog has not yet been able to get out. I feel better knowing she is safe and confined to our backyard area. Shipping was fast and all components seem to be of good quality.